It is completed!
Our Virtual Choir project to celebrate Cruinniú na nÓg was a success and you can see the final product below:
tThanks to all participants for enthusiastically contributing to the project and thanks to our GSGC team for making it happen!
Gardiner Street Gospel Choir invite you to participate in our
special Virtual Choir to celebrate Cruinniú na nÓg
Sing with us! Dance with us! And be part of this absolutely unique Virtual Choir that we will create with you for Cruinniú na nÓg. There will be other young singers from all over Ireland and members from the Gardiner Street Gospel Choir in this choir and together we will perform the super energetic song "The Best Day of my Life" by the band American Authors.
So that we can tell you more details, you need to register to be part of the choir and you can do that either by clicking on the button below or by sending an e-mail to GSGCproject2021@gmail.com
On this page you will find all the information about this event AND you will find our tutorial videos where Cathy and Michael, the great leaders of the Gardiner Street Gospel Choir and the Gardiner Street Junior Gospel Choir will tell you lots about singing, dancing and teach you the "The best Day of My Life" song.
The videos will take you through warm-ups, song + line demonstrations, choreography tuition, and complete instructions on how you can record yourself at home on a Smartphone/Tablet. These 'how to' videos will be published one a week in May on YouTube and you will find a link below.
When we have learned the song together, we will invite you to send us your own video and Chris, our talented video magician, will turn us all into a once-in-a-lifetime Virtual Choir. Be part of the fun and be a proud singer in a cool choir!
Every week from Monday in May, a new video will be posted here and in four steps we will teach you the song for our Virtual Choir.
Our song is "The Best Day of my Life" by The American Authors, and you can listen to it here:
And here are our Video Tutorials! Have fun watching them and singing your heart out!
In our first Video Tutorial, Cathy and Michael tell you a bit more about the Virtual Choir and do a Voice Warm-up – essential for every good singer! – with you. Enjoy!!
In this second video, Cathy and Mick will teach you part 2 of the song, 'Best Day of my Life' and they will revise what they covered last week.
Video 3 teaches the next part of the song and we are getting closer and closer to the finish line. 🙂
And here is our fourth and final video! You have learned the whole song already and in this video we will revise the complete song and will explain how to record the video for our Virtual Choir.
We're almost there! It is now time to record your own Best Day of my Life videos at home. You still have a few days, so get practising with your backing tracks, and have a read of this how-to guide that our tech wizard, Chris, has prepared for you. Don't forget to send us your Parental Consent form so that we are allowed to use your video and then send us your wonderful video on 01 June!
Here are the Song Lyrics for "Best Day of My Life". The Backing Track will also be posted here before the end of the week.
At the end of this project we will ask you to send us a video with you singing the great song we have learned. We will then turn all the videos we got into a Virtual Choir video. To do that and so that we can show this video with you in it on YouTube, we need your parent or guardian to agree.
Please ask your parent or guardian to follow the link below and to fill in the short form on the next page. It will only take 3 minutes!
Frequently Asked Questions
How do I get involved?
Simple! Just register your interest, and get learning the song through our tutorial videos. You'll also find the other resources you'll need, such as lyrics and your backing track, here on our website. By the end of May you'll be ready to prepare your own home-recorded video for inclusion in the Virtual Choir. You'll need to send us your Parental Consent in order to participate. and then submit your video by 01 June.
Am I too late to sign-up?
Our project is underway but it's not too late to get involved! If you're a fast learner you can join at any stage in May, just be sure to catch up with our earlier tutorial videos.
What is a Virtual Choir?
It's a recorded performance that brings singers together, thanks to technology. It's a little different from a live performance, in that everyone creates their own video at home using a supplied backing track and then all the videos are 'knitted' together to create the feeling of a choir. It's also different from meeting via Zoom, which certainly has its advantages but doesn't allow for singing together in real time. A Virtual Choir is the next best thing to being able to sing together while COVID restrictions are in place.
Who else will be in the Virtual Choir?
Young people from the Dublin area and beyond, including but not limited to members of Gardiner Street Gospel Choir's Junior choir. There will also be some singers from the adult wing of trhe Gardiner Street Gospel Choir.
How much does it cost?
Happily the project is funded by Cruinniú na nÓg, so participation is completely free of charge!
I'm not really sure how to record a video with the backing track?
Don't worry, you'll find complete instructions here on our website, and we'll also talk you through the process in our final video on 28 May. Please make sure you use the backing track you'll find here, rather than one you find online!
When do I need to send my video?
We'll need your videos by 01 June. so that our video editing wizard, Chris, can put them all together in time to publish the finished product for Cruinniú na nÓg on 12 June. We look forward to singing with you, virtually!
How will I submit the video on or before 01 June?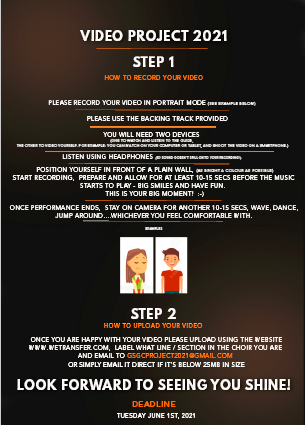 Here is the guide on "How To Submit Your Video"! It is not very complicated at all and we have no doubt that you will find it easy!
If you want to download it or just open it, you can click on the picture above or on this link https://gsgc.info/media/GSGC_Video_How_To.pdf
You probably wonder who the Gardiner Street Gospel Choir is and who you will learn these songs with.
The Gardiner Street Gospel Choir – we call it just "GSGC" – is one of Ireland's best known and most popular Gospel Choirs. We sing (in normal times when there is no virus!) every Sunday evening in Gardiner Street Church.
The person that looks after us when it comes to all things about music is Cathy McEvoy. Cathy is amazing! She plays lots of instruments, sings, writes music and works not just with one choir, but lots of them. Cathy will teach you the song and Michael Fay will help her. Michael is a brilliant piano player and he also works with a number of choirs, for example our GSGC Junior Choir.
Cathy and Michael are not only really really good musicians and singers, they are also super friendly and nice. And a lot of fun!!!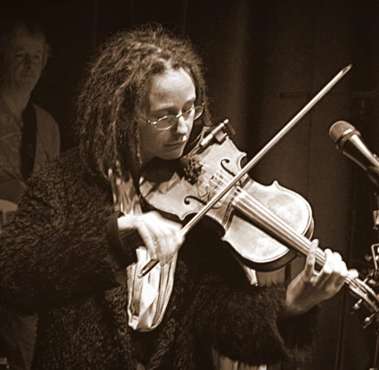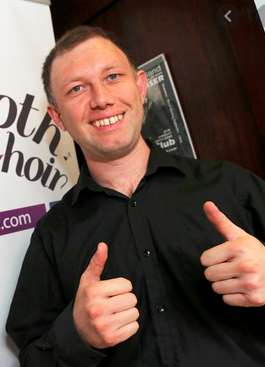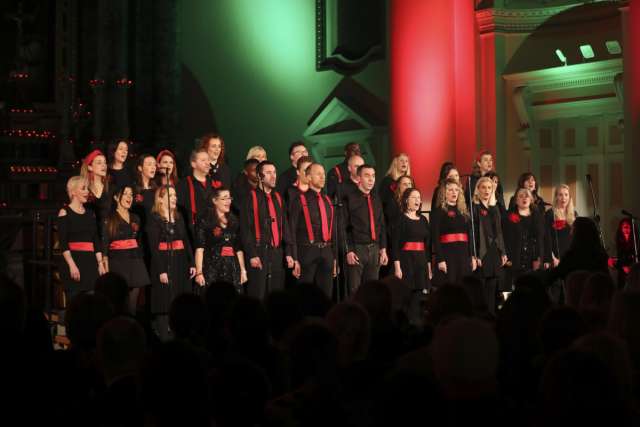 This event is supported by: